Coverage for visitors, travelers, tourists, immigrants, expats, students, missionaries.
Contact us today, we can help find the best plan for you!
Review & Compare
Understand coverage options & summary of benefits, we can help answer questions.
Trusted Plans
Well backed plans underwritten by Sirius, a leading specialty underwriter in the world.
Professional Advice
Licensed agent for expert advise with policy features, terms & exclusions.
Top Plan for Visitors to the USA
Single-trip plan for tourists in America
Ideal for relatives & parents visiting USA
Renewable & cancellable coverage
Buy 5 days min., renew up to 24 months
Acute onset of pre-existing conditions
Instant quote & buy, ID cards/proof
Max. amounts from $50K to $1 Million
Choose deductible from $0 to $2500
Best Plan for Travel to USA or Abroad
Max amounts from up to $8 million
Deductible choices from $0 to $25K
For individuals, families and groups
Enhanced features, higher maximums
Pre-existing conditions (acute onset)
Buy min. 5 days, renew to 36 months
Get instant ID cards & visa letter
Renew active policy, cancel anytime
Age 80+ individual get $20K max.
Budget Comprehensive Plan
Cheap comprehensive plan for USA
No acute-onset of pre-ex coverage
Maximum choices from $50K to $1 mill.
Deductible options from $0 to $2,500
Easy quote & purchase, ID cards/letter
Buy from 5 days, up to 2 years renew
Renew online before expiration date
Cancel prior to start for full refund
International Health Benefits Worldwide
Expatriate individuals & families worldwide
Comprehensive major medical plan
Platinum, Silver, Gold, & Bronze options
Preventative care, maternity, mental health
Annual term for for individuals and families
Pay annually, semi, quarterly or monthly
Get quote & apply online, quick review
Extend certificate annually to renew dates
Deductible choices from $100 to $25,000
Max coverage amount up to $8 million
Group Travel Medical Plan for 5+
Groups of 5+ outside home country
10% discount on group rates
Suitable for tourist groups to America
From 5 days up to max.  of 364 days
Pre-existing conditions (acute onset)
Quote & buy a single group policy
Best Plan for Travelers Outside the U.S.
International travel outside America
Buy from 5 days up to 1 year max.
Quote & purchase, instant ID cards/letter
Schengen visa requirements for Europe
Extend active policy online
Cancel policy, applicable refund processed
Low Cost Plan for Visitors to the USA
Minimum of 5 days renew up to 1 year
Fixed plan with medical benefits capped
Summary of benefits w/scheduled limits
No PPO network, any doctor or hospital
Renew to extend policy up to 12 months
Cancel plan, pro-rated refund if no claims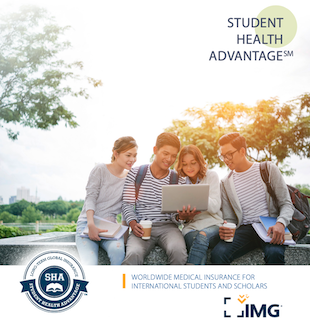 International Student Health Plan
For full-time intl. students & dependants
2 levels: Standard or Platinum
Renew coverage up to 48 months
Freedom to seek treatment w/any provider
F-1/F-2/J-1/J-2/M-1/M-2 US visa
Maternity/newborn care and mental health
Medical Evacuation for USA
U.S. J1/J2 visa exchange visitors
Cultural exchange programs participant
For students studying abroad
Coverage for sickness/injury included
Emergency medical evacuation
Repatriation of mortal remains
Local burial or cremation covered
Maximum choice to $5 million
Deductible options from $0 to $500
Meets US J-1 visa requirements
Annual Travel Insurance
Frequent travelers to America/overseas
For business travel by executives
Designed to buy annually for connivence
Existing pre-conditions with acute-onset
Get instant ID cards upon purchase
Renew annually, for busy professionals
Mission Travel Medical Plan
Missionary visiting USA or traveling abroad
Benefit period up to 12 months for care
Renew online to extend up to 12 months
Acute Onset of Pre-condition to age 70
Emergency Room Accident or Illness
Coverage for Local Ambulance Transport
Hospital Daily Indemnity for Incidentals
Emergency Reunion or Political Evacuation
Return of Remains or Cremation/Burial
Return of Minor Children
Incidental Trips/End of Trip Coverage
Terrorism, Natural Disaster, Identity Theft
Basic Travel Medical Insurance
Both USA visitors & overseas
Basic travel medical benefits
Designed for budget travel needs
No pre-conditions w/acute-onset
Excludes coverage for repatriation
Excludes benefits for evacuation
Instant ID cards upon purchase
Max coverage from $50K to $2M
Deductible choices to $2500
Renew online up to 24 months
Not sure which is the right plan & best suited for your needs/budget?
Contact us, we can help guide you!